11/3/2023 Update on Fall Leaves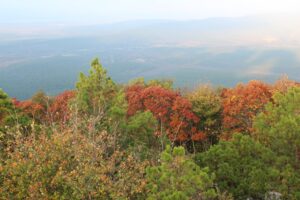 11/3/2023 – FALL COLOR UPDATE!
Looks like our vibrant colors are almost ready cover the mountainside! If you've been up on the Talimena National Scenic Byway in the past few days, you know things have started to change! The rain last week, coupled with this brief cold snap, has really shifted gears with the trees on the mountain, and it looks like we're in for some wonderful color! Peak time for viewing will take place over the next week, so make your plans now to view Talihina in all her glory! While you're here, swing by our Fall Foliage Festival this Saturday, Nov 4 from 9am-4pm…we'll have something for everyone! And don't forget to stop in town and visit our local merchants and restaurants for those items you can only get in Talihina! Hope to see you soon!